Mastering can add that final dimension to your song or album that helps hit it out of the ballpark, make it radio-ready, and really grab a listener's attention ... but only if done correctly. (if you'd like a thorough explanation of exactly what mastering is, you can read all about it on my WHAT IS MASTERING? page.)
If you haven't thought about it already, allow me to tell you that the most important piece of equipment in any mastering studio is the engineer's ears! PERIOD!! I have many times personally seen music projects go into other mastering studios, regardless of the amount of expensive gear, and come out sounding smaller and less impactful than when they went in. And that is always the engineer's fault. My ears are among the best in the business and I guarantee you that any recording or cd that I work on will be the best that it can be and will meet or exceed your expectations.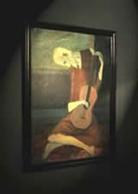 The rate is $90 per hour.
An entire cd (10 - 14 songs) usually takes from 5 to 8 hours and is done at the block rate of $80 an hour.
The big variable in the time it takes when mastering is the condition of the music that you bring in. If your songs are well-recorded and mixed, mastering will go much more quickly than for songs where there may be something lacking in the original audio files and where detailed tweaking or "surgery" is needed.
You may choose to come in-person and be here for the mastering session, in which case you will leave with your final product on a cd, or you can digitally upload your music to me (or send a cd by mail) and have me master your music without you here. Your songs will then be sent back to you via the internet through Dropbox or WeTransfer. (Mastered files are too big to be included in an email as an attachment)
If you choose for me to master your songs by myself, I encourage you to tell me about any concerns or preferences that you have with your music that you would like me to address before I do the mastering. It can be anything from a song needing more low end, or a hi hat being too loud or a vocal too low, to more abstract issues such as a song needing more energy or needing to be more "in your face."
Please feel free to email me or call if you have any questions regarding any aspect of the mastering process - or - if you would like to schedule a free in-person consultation. I will also be happy to listen to your music beforehand, and give you a complete detailed appraisal of your project and what you can expect sonically from mastering your songs before scheduling a session.