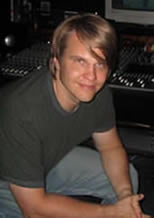 Welcome to Studio Ray Recording Studios NYC
Hi and welcome, my name is Ray Balconis, and I am a producer & vocal coach whose songs and music have been on the radio and charting in Billboard for many, many years now. My recording studio offers ultra-high quality recording, mixing & mastering in a very friendly, relaxed, & creative atmosphere. Unlike the big NYC recording studios where you only work with an intern or engineer unless you pay extra for a producer - I am a producer, and I work with each and every client to make every performance, every song, and every project, the absolute best that it can be.
As a producer I can provide you with anything and everything you need to take your song from just an idea to a finished master quality record. Anything from playing all of the instruments, to world-class vocal production, songwriting support, thoroughly arranging all instruments and harmonies, recording, mixing & mastering, and complete professional guidance over all creative and technical aspects of making a record.
I am located in Maspeth, Queens NY which is on the Brooklyn/Queens border just 4 miles from Manhattan. For more information on easily getting to the studio from anywhere in the five boroughs see my directions page.
I have over 20 years of experience in the art of producing, and I know how to take your songs and give them all of the polish, punch, & "MAGIC" that they need to compete with what's on the radio. Please visit the testimonials page to see how happy all of my clients have been with the level of attention and dedication they've received here.
Remember, what makes a recording studio special is the person running it! A million dollars worth of equipment can't help you if your engineer doesn't actually know how to use it. I have real world experience in making music for the major labels & radio, as well as thousands of independent artists, and I can make you sound as good as, or even better than anything out there. Anybody can hit a "record" button, but it takes an experienced producer - and a life devoted to music - to help craft something truly extraordinary. I have the tools and knowledge to get you there, AND I know how to make an artist feel right at home while at the same time inspiring them to be exceptional. Whether it be pop, rock, hip hop, RnB, or singer-songwriter, one of the most frequent & gratifying compliments that I get from the people who record here is that they've gotten far better results here than at other recording studios in NYC that charged them 2 or 3 times my price.
When you're ready, please feel free to come by for a free consultation (by appointment only). Meet me, check out the space, and have a listen to the many artists who've made their recordings here at my studio, and then let your own ears decide. (You can also hear samples on my music page) So email me or give me a call ... I look forward to hearing from you.